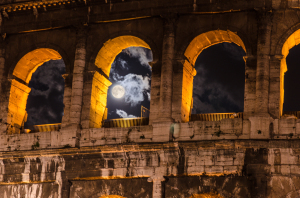 The European Partnership for Action Against Cancer (EPAAC) is organising the second Open Forum in Rome to discuss important issues and challenges posed by cancer in the Member States, as well as to provide updates on the recent activities of the Partnership. The second Open Forum will be focusing both on Cancer Information and Data as well as Cancer Prevention and Health Promotion.
Cancer is the second most common cause of death in the European Union (29% of deaths for men or 3 out of 10 deaths, 23% for women or 2 out of 10 deaths) – and the figure is expected to rise due to the ageing European population. Cancer is a national health challenge, but also a European one. By sharing knowledge, capacity and expertise in cancer prevention and control, we can address the problem across the continent more effectively.
A diverse group of stakeholders from across Europe will meet in Rome to discuss cancer prevention and the promotion of better health, exchange views and best practices. Leading experts in the field of cancer information and cancer registries will discuss the proposal for a European Cancer Information System.
The European Partnership for Action Against Cancer (EPAAC) was launched in 2009, after the European Commission published its Communication on Action Against Cancer: European Partnership. The specificity of the Partnership is that it brings together the efforts of different stakeholders into a joint response to prevent and control cancer. In its initial phase, until early 2014, the work of the Partnership will be taken forward through a Joint Action (co-financed by the EU Health Programme).
Following the proposed actions outlined by the Commission, the EPAAC Joint Action has set itself a broad range of goals across different areas of cancer prevention and control: health promotion and cancer prevention, including screening, identification of best practice in cancer-related healthcare, the collection and analysis of comparable data and information, a coordinated approach to cancer research and national cancer plans.
2012 also marks the 25th anniversary of EU policy on cancer. In 1985, the European Council in Milan emphasized the importance of launching a European programme of action against cancer, which resulted in the development of the first of the three successive "Europe Against Cancer" action programmes, which ran until 2003. After 2003, efforts to combat cancer continued in the framework of horizontal health programmes. Overall, the fight against cancer, and in particular cancer prevention, has been at the forefront of European Union action for the past 25 years.
EU Health Commissioner, John Dalli, emphasised that "from the first Cancer Programme in 1987, to our present Partnership against Cancer, the Commission has fostered action on prevention, research, control and care which made a difference for Europeans living with cancer. This year the Open Forum focuses on cancer information and cancer prevention.
Information is key for shaping and implementing effective cancer prevention and control strategies. The Commission is committed to fostering a sustainable, comprehensive European Cancer Information System. As for prevention, the Commission is keen to use all the tools at its  disposal to help people avoid cancer; by making healthier choices as early in life as possible."
European Cancer Information System. As for prevention, the Commission is keen to use all the tools at its disposal to help people avoid cancer; by making healthier choices as early in life as possible."
Prevention of unhealthy lifestyles is key and Commissioner Dalli stressed that "smoking is the biggest preventable risk factor for cancer. We need to ensure that people know what tobacco does to their health and to make tobacco products less attractive to young people. It is in this spirit that the Commission is currently revising European law on tobacco products, that I encourage governments to ban smoking in public places, and that I have launched the campaign "Ex-smokers are unstoppable". My message today is simple: the Commission is committed to support cancer prevention and control and will continue doing so for the years to come."
"There are two main facts to be considered: cancer is still in progress and we are still facing significant inequities in efficient combating against cancer. The idea and practice of the Partnership have been successfully established, but we need stronger momentum and more dynamics. " stated Alojz Peterle, Member of the European Parliament (MEP) and President of the Group MEPs Against Cancer (MAC) and added "What is requisite are partnerships at national level based on National Cancer Plans and partnerships on EU level aimed at exchange of knowledge, best practises (especially with regards to screening programmes) and research cooperation. Further political support at all levels of action is needed as well. Stronger efforts have to be devoted to the primary prevention, in particular in health education."
Italy is honoured to host the 2012 Open Forum of the European Partnership Action Against Cancer (EPAAC). The Italian Minister of Health, Renato Balduzzi, emphasised that he considers this responsibility as a recognition to the commitment and strong contribution Italy has given to the fight against cancer, both at national and international level, and in particular for European cooperation.
"Our important role is fully reflected by the presence of several Italian partners in this important initiative, which also received full support and significant contributions from the Italian Ministry of Health. We are at the forefront of this effort because the fight against cancer is a priority in our national health strategies", stressed Minister Balduzzi and also noted that, "we contribute to all of the EPAAC Work Packages (Information and Data, Cancer Prevention and Health Promotion, Healthcare, Research) and we trust that the alliance among all partners involved in the project will strongly increase progress in our struggle against this disease."
Slovenia highlighted the increasing cancer burden as a priority topic in the field of health during the time of its EU presidency in 2008 and contributed to putting cancer back on the EU political agenda. "An approach based on joint action and partnership implies added value, as experts from across the EU collaborate and shape actions to combat cancer, exchange best practices, define obstacles and more easily achieve goals", stated Tomaž Gantar, the Minister of Health of the Republic of Slovenia and added, "I am happy that coordination of the Partnership for Action Against Cancer has been entrusted to Slovenia; such a task represents a unique challenge for us".
For more please visit www.epaac.eu or contact partnership.cancer(at)ivz-rs.si.