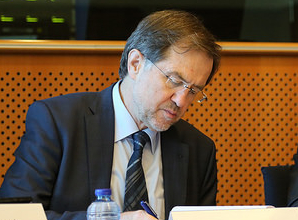 Alojz Peterle MEP (EPP/NSI), Chair of the EU-Former Yugoslav Republic of Macedonia Joint Parliamentary Committee (JPC), welcomed the 12th EU- FYROM JPC that took place on 26 -27 November 2014 under his co-chairmanship.
Peterle said that "the JPC will strive to contribute to an improved political atmosphere which could accelerate the accession process of Macedonia to the EU".
With regards to the opening of negotiations and the enlargement process in the region, Peterle called on all regional actors "to apply European principles in order to settle any bilateral issues". He added "after 10 years in the waiting room, we need to unblock the way towards accession negotiations."
Peterle warned that a continued blockade in the European integration process could lead to undesired situations, mentioning that "the less the European Union will do in the Western Balkans, the more will be done by others, but not necessarily in the interests of the EU."
Peterle remarked "I am looking forward to working in the format of a fully functional JPC able to give recommendations, with full representation of all parliamentary parties. In that context, it is up to both, government and opposition, to actively seek an improvement of the political environment and to ensure that the political debate takes place within the parliament. This is a precondition for an open and constructive dialogue and for achieving concrete results".
Peterle concluded "we are acquainted that the country is ready to begin with accession negotiations and I consider that the opening of negotiations would have a positive effect also on outstanding bilateral issues".