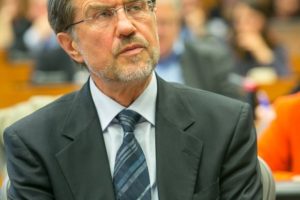 History teaches us that waves of technological change have transformed our human societies and quality of life has gained a lot with these processes. The current digital revolution has the power to do so once again.

In the Charter of Fundamental Rights of the European Union we can read that EU nations are committed to ensure "a high level of human health protection in the definition and implementation of all Union policies and activities". This is why health remains one of the main challenges of the European Union and should be in my view our first political priority.
It is evident that European Union could provide more added value in this area and digital transformation of our healthcare is a reality decision-makers and patients alike are starting to face on a daily basis. Citizens should feel that all Member States work together for more health in general and for more eHealth in particular.
Several years ago we agreed to apply health for all and in all policies. Although we know that healthcare is largely a national competence, this should not turn us away from working together towards better coordination and support in addressing health challenges.
In the effort to help its member countries to coordinate their strategies to protect public health, the Council adopted in 2009 a series of recommendations regarding measures designed to improve patient safety in Europe and ensure equal safety standards to all the EU citizens. However, despite such positive commitments, patient safety standards and the implementation of national strategies to reduce harm still vary widely across the EU.
Unsafe care has not only consequences for patients' health and EU citizens' trust in healthcare systems, but also a significant impact on our economy. But the thing to keep in mind is that most of the healthcare associated infections and other adverse events occurred in hospitals are preventable. As policymakers we must take the lead in supporting Member States to protect patients from preventable harm and boost prevention in healthcare setting.
Reliable eHealth solutions might ensure more personalized and citizen-centric healthcare services and, therefore, preventing errors and avoidable harm. However, uneven development of eHealth solutions within the Member States remains an obstacle in providing to all EU citizens with personalized healthcare and innovative safety measures.
These facts leave us with the core question of challenges we have to cope with in order to enable development of eHealth and digital transformation of health-care systems from the point-view of patient safety.
When we look at the implementation of eHealth solutions in healthcare settings, like ePrescriptions, electronic patient records and cloud-based health information management systems, we see that they vary significantly across Member States' healthcare settings, with some areas virtually excluded from eHealth access and benefits. We also have difficulties to measure eHealth solutions benefits to patient safety. Therefore, more research and studies are needed.
In 2010, the European Commission published a report on the socio-economic impact of interoperable Electronic Health Records and ePrescribing systems in Europe. For all cases analyzed, the socio-economic gains to society from those systems greatly exceed the respective costs.
We can be sure that patient safety will benefit from a truly European scheme which would aim to consolidate and share science-based data regarding adverse events. Only if we have a clear data on errors we can build a European strategy to prevent adverse events and tackle faulty systems and conditions that lead people to commit mistakes or shortage of prevention.
To improve interoperability of our healthcare systems we must decide how research and health data are going to be exchanged between Member States. The free flow of data in research is already having a positive effect scientific on collaboration and achievement of results.
Missing or insufficient digital infrastructures is another challenge. We need it to facilitate digital transformation in healthcare. With a secure supporting infrastructure, digital health data can significantly advance research, improve safety, disease prevention and personalized healthcare.
But we should also never forget why are we taking this direction. Digital revolution in healthcare must never be only about technology and numbers. Each patient and healthcare professional must remain in our focus.
This is why it is essential to explain to people to what extent eHealth solution can facilitate patients' access to their medical dossiers as well as provide useful information on the legal rights in case of adverse events. We are still missing guidelines on the right to information.
Lack of users' awareness is also a challenge we should put on our priorities list. The use of eHealth solutions by both consumers and healthcare professionals is going to change the way they deal with health and the professional practice. Therefore, it is important to raise awareness among citizens and boost eHealth training for healthcare professionals. They must be educated about the nature and purpose of the eHealth solutions and any potential breaches of data protection, also by increasing their digital health literacy.
Patient safety within healthcare is the absolute precondition for preventing errors and adverse events. As policymakers we need to provide a supportive policy framework for eHealth solutions to be fully and safely developed in order to foster more involvement of patients in the care processes. We must ensure that any innovative solution aims primarily to the safety of the patients and to the reliable and secure use of these new technologies.
(My speech at the Health First European Round table, December 5th 2017)